Pro Forma Liquidity of Approximately $260 Million and Pro Forma Total Debt Ratio of 3.6 Times
RADNOR, Pa., Aug. 31, 2015 (GLOBE NEWSWIRE) -- Penn Virginia Corporation (NYSE:PVA) today announced that it has closed the previously announced sale of its East Texas assets. The net cash proceeds from the sale were approximately $74 million, including customary closing adjustments.
Pro forma for the East Texas divestiture, at June 30, 2015, our total debt ratio and credit exposure ratio, defined as all outstanding borrowings under our revolving credit facility (Revolver) plus any outstanding letters of credit, were 3.6 times and 0.4 times trailing twelve months' pro forma Adjusted EBITDAX, respectively, with $138 million outstanding under our revolving Revolver and financial liquidity of $259 million. This compares to total debt and credit exposure ratios of 3.7 times and 0.6 times, respectively, with $212 million outstanding under the Revolver and financial liquidity of $215 million as of June 30, 2015.
The divestiture was already given effect in our most recent 2015 guidance.
Penn Virginia Corporation (NYSE:PVA) is an independent oil and gas company engaged in the exploration, development and production of oil, NGLs and natural gas in various domestic onshore regions of the United States, with a primary focus in the Eagle Ford Shale in south Texas. For more information, please visit our website at www.pennvirginia.com.
CONTACT: James W. Dean
         Vice President, Corporate Development
         Ph: (610) 687-7531 Fax: (610) 687-3688
         E-Mail: invest@pennvirginia.com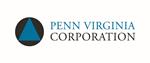 Source: Penn Virginia Corporation

Released August 31, 2015